Natural Flea Protection
This post may contain affiliate links so I earn a commission.
The best way to obtain natural flea protection is to indulge in one, or several of the fantastic natural products offered on the market. 
There is an old "chemical free" trick that works especially well for rooms or other enclosed areas.
What you do is make a homemade flea trap by placing a shallow pan of water on the floor, with a bit of liquid dish soap in it. 
It is best to do this away from children and inquisitive pets.
After placing your shallow container of water with dish soap, set a few floating tea candles in the water.
Light the candles and wait for the magic to begin.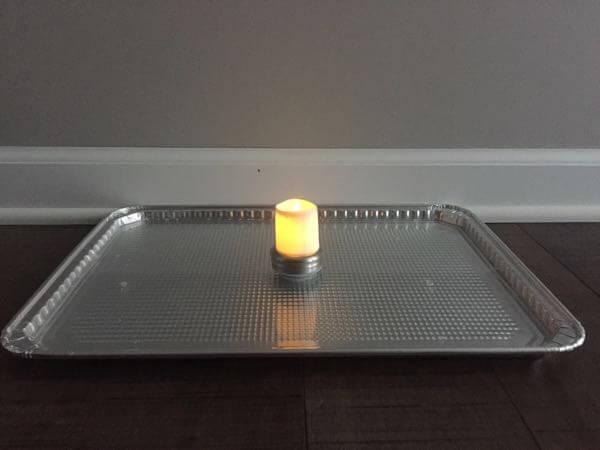 The fleas will jump towards the candle light and land in the water. 

After the candles burn down, you simply empty the container of water outside away from your house with all of the fleas in it.  
If you don't want to use actual tea candles, you can use small LED candles which have the same effect without the open flame.

This brings to mind the question of "Can fleas drown?"  
Yes, fleas can drown but it takes awhile when they are on top of the water.
If they are pulled down with the added weight and surface tension of something like dish soap, they will most likely die within 24 hours.
Common dish soap has what is known as surfactants. 
Surfactants, when dissolved in water, reduce the surface tension of the water causing the fleas to sink.

Working to get rid of fleas can be a very challenging problem. 
Vacuum, vacuum, and vacuum, is a rule of thumb if you are suffering from fleas in a carpeted room, but this does not really help in other areas such as on your pets.
To learn more, let's look at some natural products that work great for removing fleas on your cat or dog.
Natural Flea Protection Products For Pets
When you are protecting your pets from fleas, you are also protecting yourself and other family members from flea bites which can cause a multitude of problems.
Of course you will want to eliminate fleas from your total environment, including your house and your lawn, but lets look at some of the natural flea protection products designed especially for your pets. 
SchoBkind Organic Flea Collars
SchoBkind organic flea collars hail from Germany, and use natural herbal extracts along with essential oils to protect your animals from fleas and other woes.
They are absolutely safe for your pet and for humans, and contain no chemicals.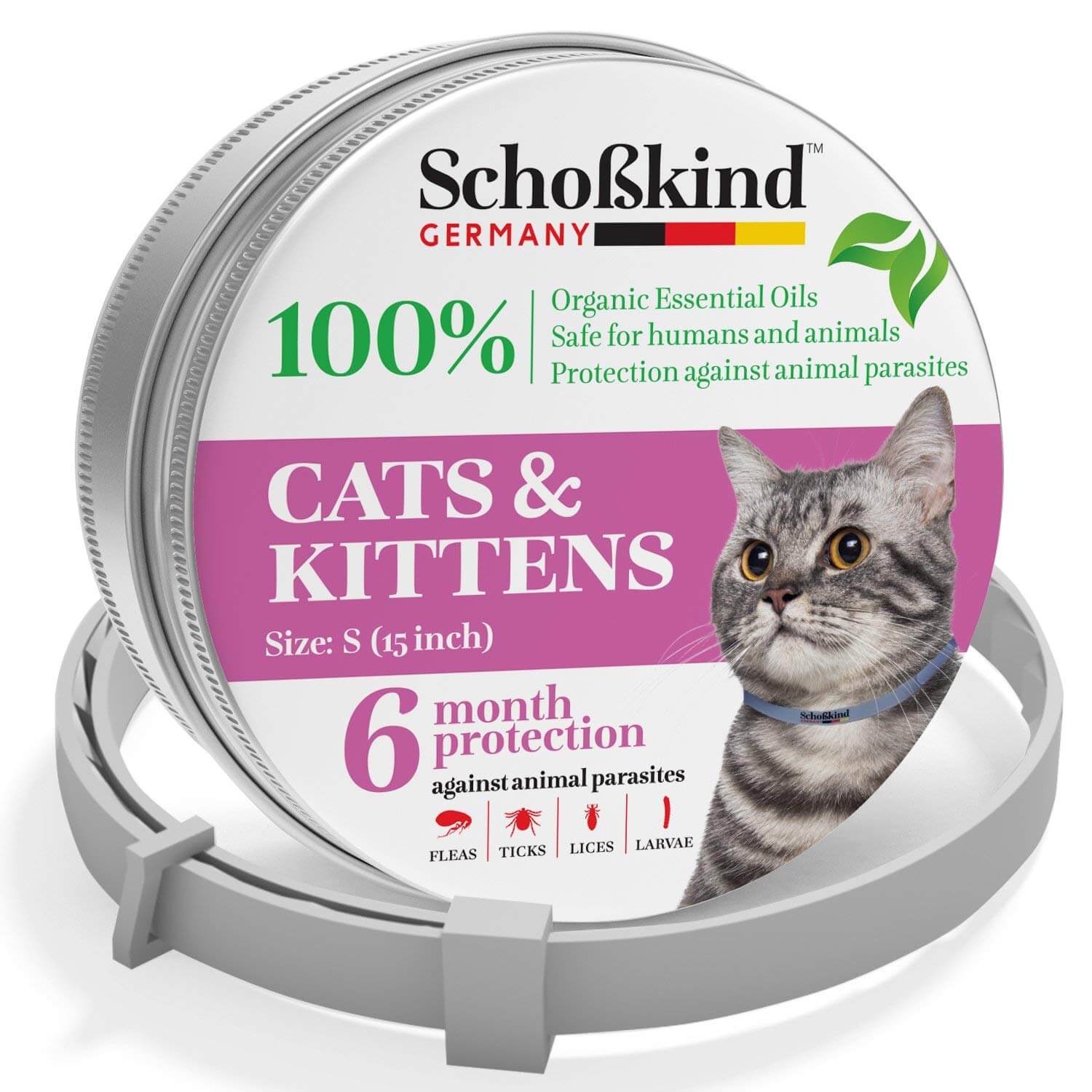 One of the really good things about this collar, besides being all natural, is it comes in different sizes for dogs, cats, and even kittens.
A full six months worth of effective protection is provided, the same as with most poisonous flea collars.

Terra Pet Naturals Flea and Tick Repellent Spray  
This 100 percent natural flea protection repellant spray is excellent for dogs, and even safe for their puppies (8 weeks or older). 
It comes in a beautiful cobalt blue bottle which will fit perfectly by your personal essential oils.   
Apple cider vinegar is a main ingredient in this repellant, along with several natural oils such as Lemongrass and Eucalyptus.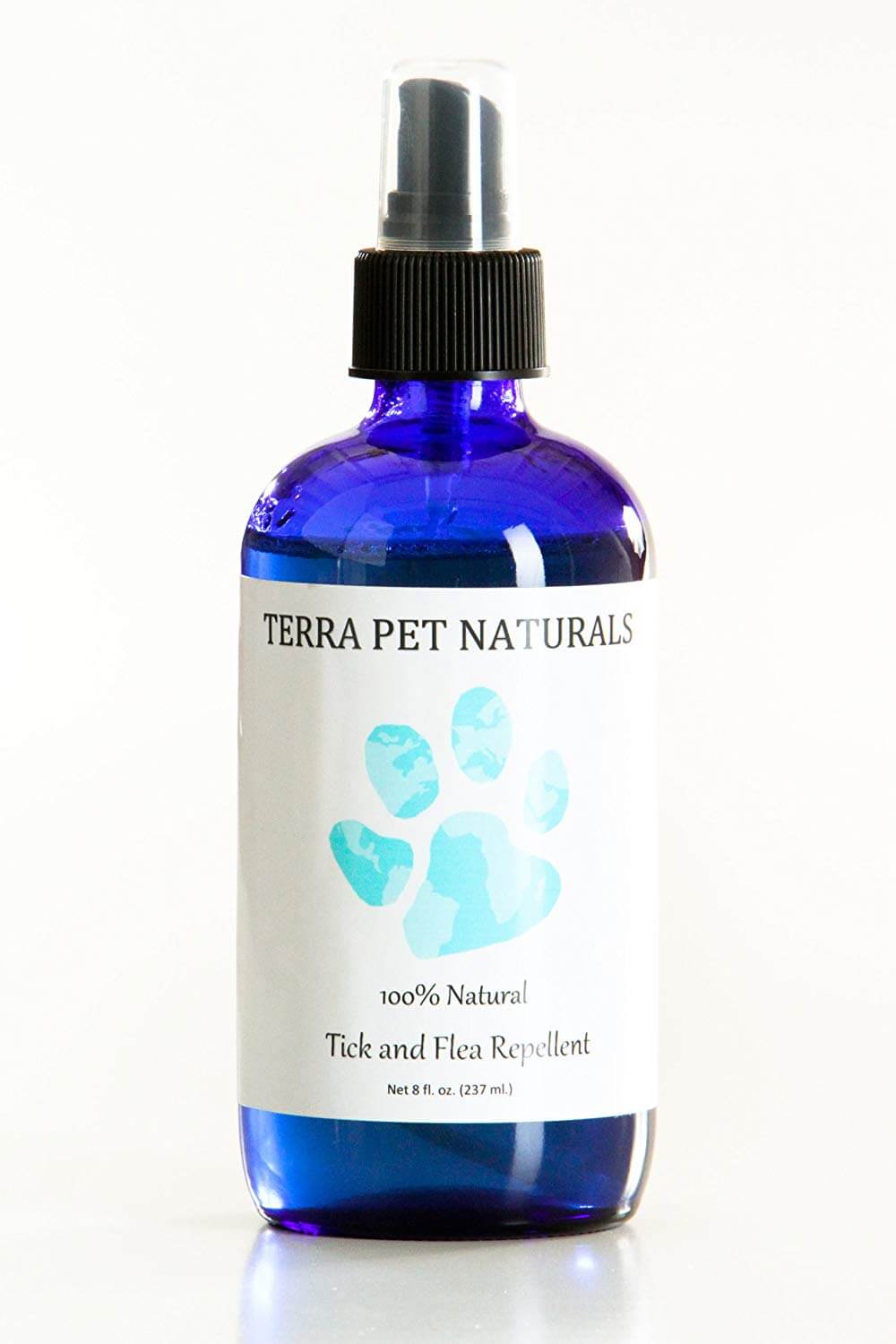 It also includes Tea Tree Oil and Citronella, and some other wonderful oils.
Vinegar is a natural repellant and nourishes your dog's skin at the same time with ph level balancing properties.  
This is a definite "must have" for the well taken care of dog to complete their grooming and pet supplies.
It is not recommended for use on cats.

Dr. Mercola "Spot On" Topical Herbal Flea and Tick Repellent  

Each application of Dr. Mercola's natural formula lasts for 1 month as a flea and tick repellent for your dog.
It is also safe for puppies over 4 months of age, and you do not have to worry about it being harmful to children or any other family members while it is doing its miraculous job.
Dr. Mercola Spot On Topical Herbal Flea & Tick Repellent for Dogs
The main ingredient is Geraniol. Geraniol smells very good and is often present in some floral oils.
It is well known in the art of perfumery.
Geraniol is created by honey bees, who use it to mark flowers that give nectar.
Honey bees eat nectar in addition to pollen, so they like to keep track of certain flowers.
Mosquitoes hate Geraniol, and so do ticks and fleas.

Profound One Size Fits All Flea and Tick Collar
This is an interestingly packaged all natural flea and tick collar for dogs.
It is sort of like a little "kit" complete with a tick remover and flea comb.
Some swear by it, and some say it does not work.
The positive reviews outweigh the "not so positive."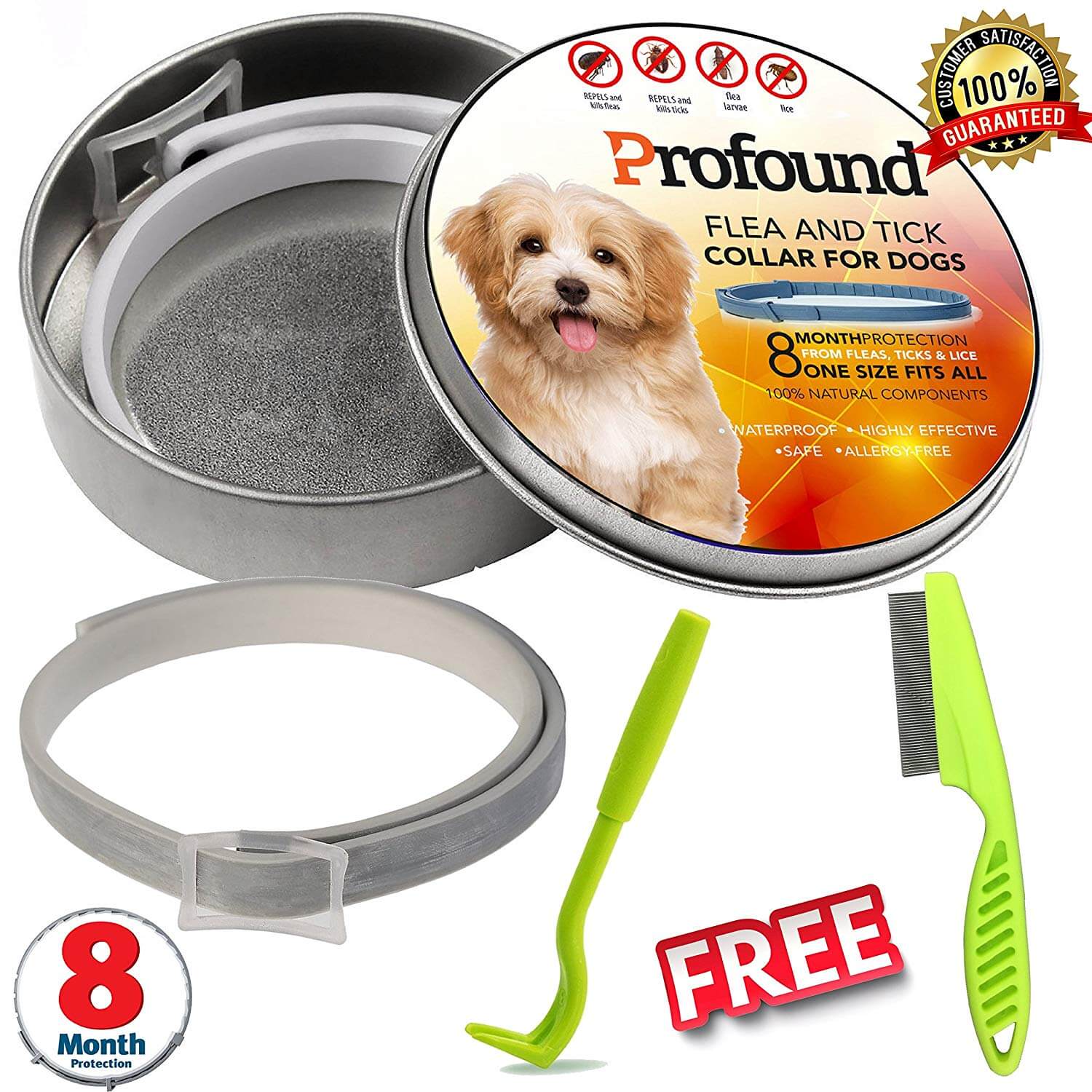 The pricing is really economical on this dog collar compared to some other all natural products.
It lasts relatively longer than most flea collars (as long as 8 months).
This all natural flea collar is water resistant and kills fleas and ticks on contact without them having to inflict a bite on your dog.

Natural Flea Protection - Overall
There are several remarkable natural flea protection and tick products on the market without the use of dangerous chemicals.
You will not only want to use these products for your pets, but also in your yard and around your home.
Wondercide carries an all natural flea, tick, and mosquito control spray that you can use directly on your pet's bedding and other problem areas of your home, both inside and out.
It is safe for children, seniors, and mothers that are nursing.
This highly recommended all natural spray is made with ingredients which are considered food grade.
There are many natural wonders when it comes to natural flea protection.
Try a few different varieties to see which one works best for you, your pet and your home.