Trapping Blog
The trapping blog is a mini journal about the website. It will.......
- Keep you up to date with any changes or additions to the website.
- Keep you informed about any new trapping information or products.
- Point out some useful and important tips to help you become a better trapper.
Not sure what blogging and RSS is all about? Try it out and see. Once you start you'll be amazed at what it can do!
Dec 20, 2016
Mink Animal Facts - Learn About Minks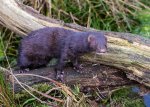 Use these mink animal facts to learn more about minks in the wild and captivity. Contains habitat, diet and behavior information.